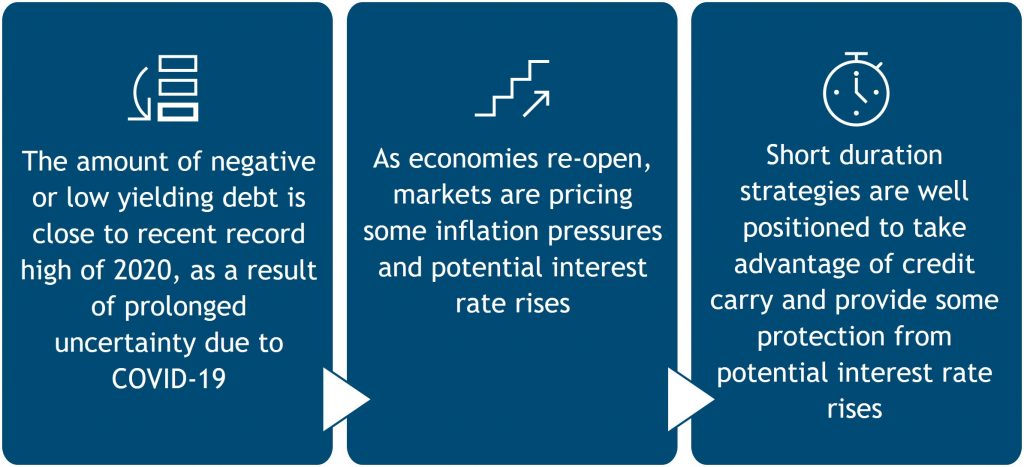 Muzinich views and opinions are not to be construed as investment advice and are for illustrative purposes only.
Muzinich Enhancedyield Short-Term Fund
Overview
A global crossover strategy that combines investment grade and high yield credit into a single portfolio and seeks to generate attractive returns and contain volatility.

Aims to contain volatility via a well-diversified portfolio across issuers, sectors, geographies and credit sub-asset classes in corporate bonds with an average duration to worst of no more than 2 years
Positive yield, decent credit spreads, modest duration and roll down should allow for attractive positive returns
Seeks to preserve capital, offer capital appreciation and contain volatility
Incorporates dynamic relative value credit analysis to determine the best place to deploy capital when looking at the impact of cross currency hedging on total returns
Maintains an average investment grade rating, but may invest up to 40% in high yield bonds; adding high yield to an investment grade portfolio may result in a more efficient portfolio
Capital at risk. The value of investments and the income from them may fall as well as rise, and is not guaranteed. Investors may not get back the full amount invested.
The Fund is actively managed and run on an entirely discretionary basis. The Fund is not managed in reference to any benchmark.
Why Does a Short Duration Approach Make Sense?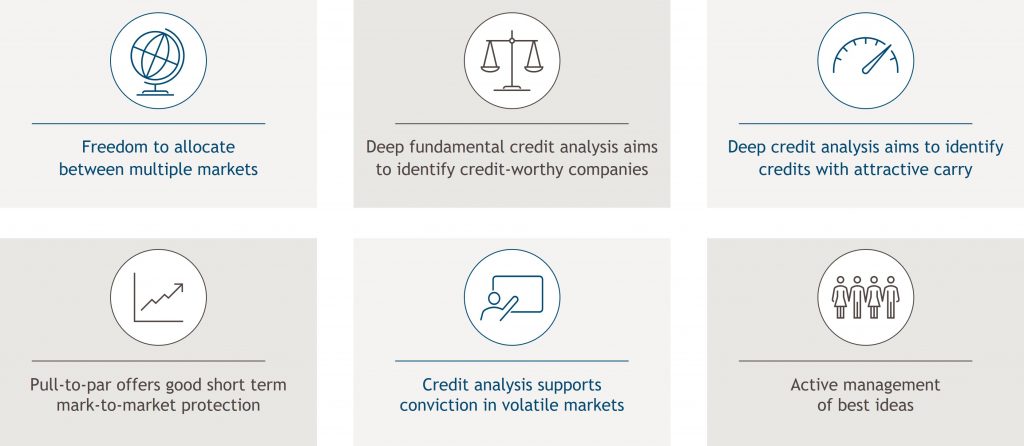 Crossover Credit – Combining Investment Grade and High Yield Credit Seeking Stable Returns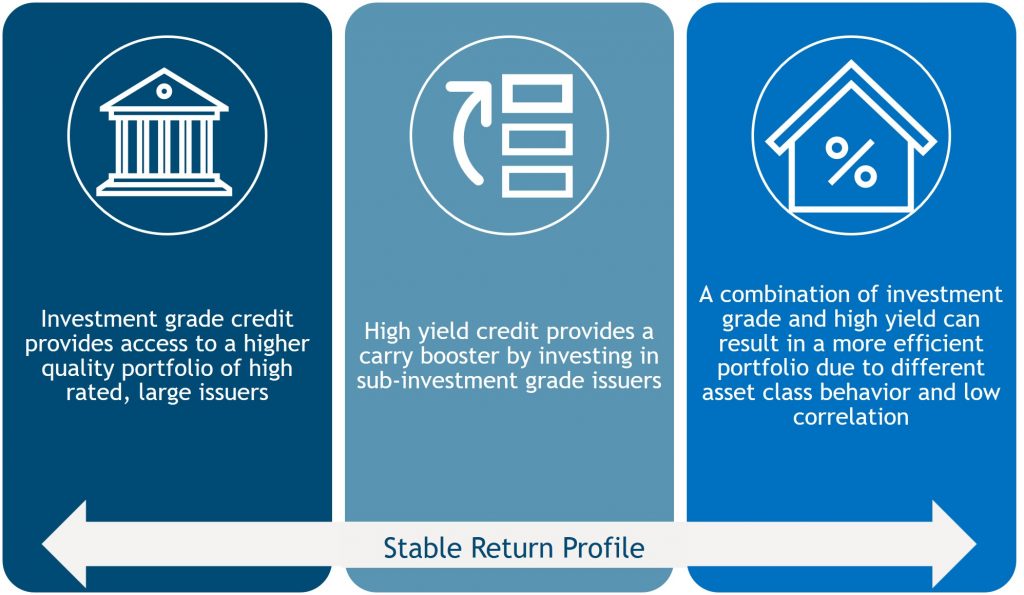 Risk Considerations
Credit Risk: Issuers of bonds held in the Fund may default on their obligations or have their credit rating downgraded, possibly resulting in a temporary or permanent decrease in the value of those bonds. Bonds in this Fund may be subinvestment grade, meaning that they may produce a higher level of income but also carry greater risk.
Liquidity Risk: The Fund may face difficulties in purchasing or selling its assets, although it endeavors to invest in liquid securities.
Interest Rate Risk: Fixed-rate bonds held in the Fund may fall in price with an increase in the prevailing level of interest rates in the economy. This risk usually decreases for bonds of lower rating and shorter durations.
Currency Risk: Fluctuations in exchange rates may cause the value of your investment to rise or fall. This unit class may be exposed to currencies other than the one in which the unit class is denominated. Although the Manager endeavours to protect the Fund against currency risk, such hedging, achieved through derivatives (see "Derivative Risk" below), is at the Manager's discretion and it may not be possible or practical to protect against all currency risk.
Annualised Returns (%)

Calendar Year Returns (%)

The figures shown relate to past performance. Past performance is not a reliable indicator of current or future results and should not be the sole factor of consideration when selecting a product or strategy.
Source: Muzinich. Data as of June 30th, 2021. Figures are from the Hedged USD Accumulation A class of the Muzinich Enhancedyield Short-Term Fund. Gross performance does not account for the effect of commissions, fees and other charges associated with investments in the Fund, which would reduce the values depicted. Net Performance provided is net of all fees and expenses. Index performance is for illustrative purposes only. You cannot invest directly in the index. The return of your investment may increase or decrease as a result of currency fluctuations. Inception date: November 26, 2013.
Related Documents
Fund Factsheet & Literature
InFocus
Webinar Replay

---
FOR PROFESSIONAL CLIENTS/QUALIFIED AND ACCREDITED INVESTORS ONLY – NOT FOR RETAIL USE OR DISTRIBUTION – CONFIDENTIAL
Muzinich Enhancedyield Short-Term Fund is a sub-fund of Muzinich Funds, a unit trust organised under the laws of Ireland and authorised by the Central Bank of Ireland as UCITS.
"Muzinich & Co.", "Muzinich" and/or the "Firm" referenced herein is defined as Muzinich & Co. Inc. and its affiliates. This material has been produced for information purposes only and as such the views contained herein are not to be taken as investment advice. The Management Company may decide to revoke the arrangements made for marketing of its collective investment undertakings in accordance with the applicable laws at any time. Opinions are as of date of publication and are subject to change without reference or notification to you. Past performance is not a reliable indicator of current or future results and should not be the sole factor of consideration when selecting a product or strategy. The value of investments and the income from them may fall as well as rise and is not guaranteed and investors may not get back the full amount invested. Rates of exchange may cause the value of investments to rise or fall.
Any research in this document has been obtained and may have been acted on by Muzinich for its own purpose. The results of such research are being made available for information purposes and no assurances are made as to their accuracy. Opinions and statements of financial market trends that are based on market conditions constitute our judgment and this judgment may prove to be wrong. The views and opinions expressed should not be construed as an offer to buy or sell or invitation to engage in any investment activity, they are for information purposes only.
These materials do not constitute an offer or solicitation to sell or a solicitation of an offer to buy any product or service (nor shall any product or service be offered or sold to any person) in any jurisdiction in which an offer, solicitation, purchase or sale would be unlawful under the securities law of that jurisdiction. Please note that investment is subject to documentation, including but not limited to the Prospectus and Key Investor Information Document (KIID) which contain a comprehensive disclosure of applicable risks. Investors in the UK should also access the Muzinich Supplemental Information Document ('SID'). Each of these documents are available in English at www.Muzinich.com, together with the Fund's annual and semi-annual reports. KIIDs are available by share class in each language required in the countries in which the share classes are registered. A complete listing of these KIIDs and the KIIDs themselves are also available at www.Muzinich.com. and www.fundinfo.com. Investors should confer with their independent financial, legal or tax advisors.
For Singapore – the Fund is a restricted scheme under the Sixth Schedule to the Securities and Futures (Offers of Investments)(Collective Investment Schemes) Regulations of Singapore. No offer of the units in the Fund for subscription or purchase (or invitation to subscribe for or purchase the units) may be made, and no document or other material relating to the offer of units may be circulated or distributed, whether directly or indirectly, to any person in Singapore other than to: (i) "institutional investors" pursuant to Section 304 of the Securities and Futures Act of Singapore (the "Act"), (ii) "relevant persons" pursuant to section 305(1) of the Act, (iii) persons who meet the requirements of an offer made pursuant to Section 305(2) of the Act, or (iv) pursuant to, and in accordance with the conditions of, other applicable provisions of the Act. The offer, holding and subsequent transfer of units are subject to restrictions and conditions under the Act.
Issued in Singapore and Hong Kong by Muzinich & Co. (Singapore) Pte. Limited, which is licensed and regulated by the Monetary Authority of Singapore. Registered in Singapore No. 201624477K. Registered address: 6 Battery Road, #26-05, Singapore, 049909. Issued in all other jurisdictions (excluding the U.S.) by Muzinich & Co. Limited. which is authorized and regulated by the Financial Conduct Authority. Registered in England and Wales No. 3852444. Registered address: 8 Hanover Street, London W1S 1YQ, United Kingdom. Ref: 2021-08-24-6961