Insight | August 8, 2022
Muzinich Weekly Market Comment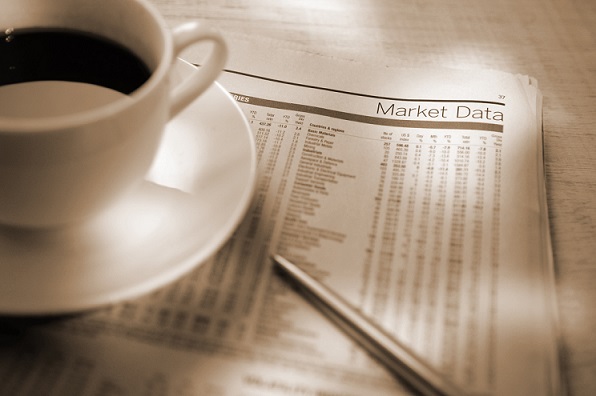 Weekly Update – Have Yields Peaked?
It was a lively start to August for US government yields (moving in a yield range of 30bps at the 10-year point), as the initial pricing by investors for a Federal Reserve ("Fed") pivot in 2023 was driven by a dovish interpretation of the Federal Open Market Committee meeting, falling gasoline prices (now 35% off June's highs), and incoming economic data. Both the ISM Manufacturing Prices Paid Index (a sub-index of the PMI, Purchasing Managers' Index) and JOLT (Job Openings and Labor Turnover) survey on US job openings gave indications that underlying price pressures might be starting to recede and that tight labor markets have, perhaps, started to loosen. This was met by committee member pushback as President of the Federal Reserve Bank of Cleveland, Loretta Mester, told the Washington Post she wants to see compelling evidence that month-to-month price increases are moderating. The Fed is trying to orchestrate a soft landing—base rates are now considered to be at neutral levels—and a further 100bps (basis points) of hikes, combined with restrictive financial conditions, would represent an attempt to bring inflation under control.
By comparison, German government yields remain stable; although rates finished the week slightly higher, the overall trend remains lower. The 5-year Germany yield has now fallen 100bps from a mid-June peak of 1.57%. Weak economic data continued this week with Eurozone manufacturing PMI contracting for the first time since the COVID-19 outbreak and regional retail sales falling -1.2% month-over-month. Adding in possible energy rationing and political uncertainty puts the ECB in an extremely difficult situation, in our view, given the toxic growth and inflation dynamics. The market is now only pricing in another 100bps of hikes for the cycle.
In China, the PMI data disappointed and home sales month-over-month contracted. This highlighted the challenges from COVID-19 flare-ups, declining global demand, and the property market. Policy remains on a loosening path. However, it was geopolitical events that grabbed the market's attention this week as US House speaker Nancy Pelosi landed in Taiwan, in defiance of China's strong wishes. China retaliated by starting its largest military drills around Taiwan in decades.
For risk assets, this was another constructive week; high yield has outperformed investment grade in credit markets, equities will close the week positive, and the dollar hasn't appreciated. As the markets becomes more confident that terminal rates are in place—or at least excessively high interest rates and restrictive financial conditions seem less likely to be needed to achieve central bank goals—a world of low growth but easier monetary policy seems a great outcome. This may also explain why we are starting to see inflows into both US credit and emerging market hard currency asset classes as investors now see the top in credit yields in place (see the below Chart of the Week).
Chart of the Week: Have Yields Peaked for Credit Markets?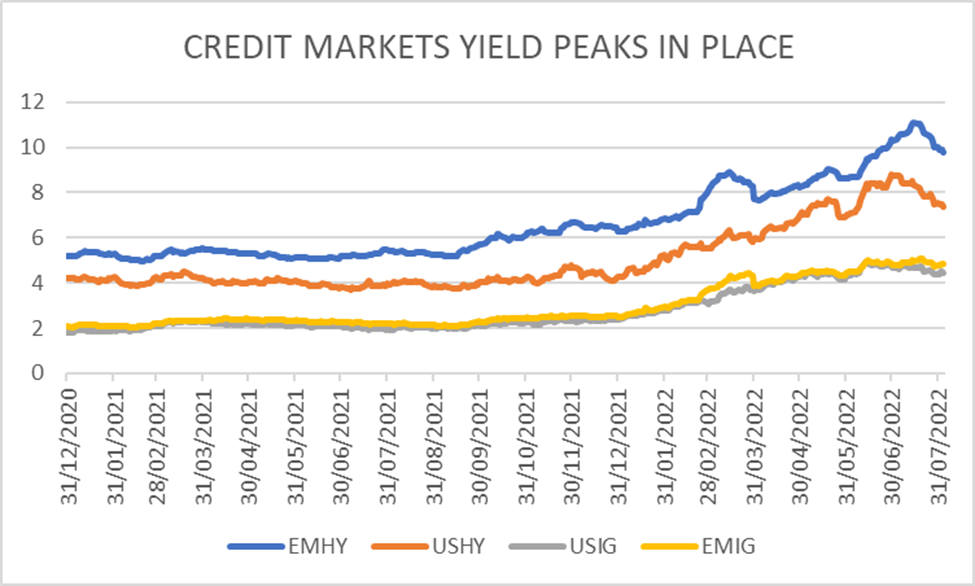 Source: Data from Bloomberg, as of 5th August 2022. EMHY (EMHY), USHY (J0A0), USIF (C0A0), EMIG (EMIB). For illustrative purposes only.
Past performance is not a reliable indicator of current or future results and should not be the sole factor of consideration when selecting a product or strategy.
Capital at risk. The value of investments and the income from them may fall as well as rise and is not guaranteed. Investors may not get back the full amount invested.
This material is not intended to be relied upon as a forecast, research, or investment advice, and is not a recommendation, offer or solicitation to buy or sell any securities or to adopt any investment strategy. The opinions expressed by Muzinich & Co are as of August 2022 and may change without notice. All data figures are from Bloomberg as of 5th August 2022, unless otherwise stated. 2022-08-05-9160
————————————————————————————————————————————————
Important Information Muzinich & Co.", "Muzinich" and/or the "Firm" referenced herein is defined as Muzinich & Co. Inc. and its affiliates. This material has been produced for information purposes only and as such the views contained herein are not to be taken as investment advice. Opinions are as of date of publication and are subject to change without reference or notification to you. Past performance is not a reliable indicator of current or future results and should not be the sole factor of consideration when selecting a product or strategy. The value of investments and the income from them may fall as well as rise and is not guaranteed and investors may not get back the full amount invested. Rates of exchange may cause the value of investments to rise or fall. Emerging Markets may be more risky than more developed markets for a variety of reasons, including but not limited to, increased political, social and economic instability, heightened pricing volatility and reduced market liquidity. Any research in this document has been obtained and may have been acted on by Muzinich for its own purpose. The results of such research are being made available for information purposes and no assurances are made as to their accuracy. Opinions and statements of financial market trends that are based on market conditions constitute our judgment and this judgment may prove to be wrong. The views and opinions expressed should not be construed as an offer to buy or sell or invitation to engage in any investment activity, they are for information purposes only. Any forward-looking information or statements expressed in the above may prove to be incorrect. In light of the significant uncertainties inherent in the forward-looking statements included herein, the inclusion of such information should not be regarded as a representation that the objectives and plans discussed herein will be achieved. Muzinich gives no undertaking that it shall update any of the information, data and opinions contained in the above. United States: This material is for Institutional Investor use only – not for retail distribution. Muzinich & Co., Inc. is a registered investment adviser with the Securities and Exchange Commission (SEC). Muzinich & Co., Inc.'s being a Registered Investment Adviser with the SEC in no way shall imply a certain level of skill or training or any authorization or approval by the SEC. Issued in the European Union by Muzinich & Co. (Ireland) Limited, which is authorized and regulated by the Central Bank of Ireland. Registered in Ireland, Company Registration No. 307511. Registered address: 32 Molesworth Street, Dublin 2, D02 Y512, Ireland. Issued in Switzerland by Muzinich & Co. (Switzerland) AG. Registered in Switzerland No. CHE-389.422.108. Registered address: Tödistrasse 5, 8002 Zurich, Switzerland. Issued in Singapore and Hong Kong by Muzinich & Co. (Singapore) Pte. Limited, which is licensed and regulated by the Monetary Authority of Singapore. Registered in Singapore No. 201624477K. Registered address: 6 Battery Road, #26-05, Singapore, 049909. Issued in all other jurisdictions (excluding the U.S.) by Muzinich & Co. Limited. which is authorized and regulated by the Financial Conduct Authority. Registered in England and Wales No. 3852444. Registered address: 8 Hanover Street, London W1S 1YQ, United Kingdom.