Insight | September 26, 2022
Muzinich Weekly Market Comment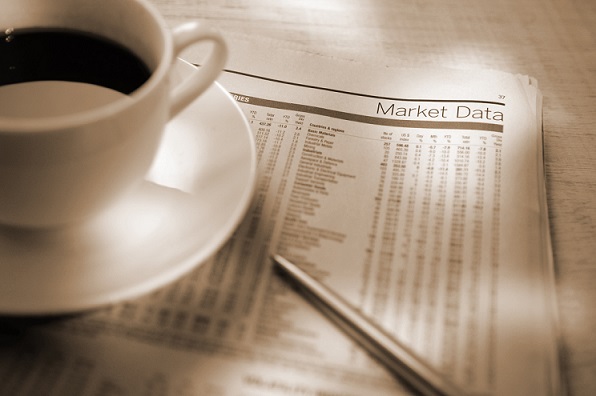 Weekly Update – Central Bank Overdrive
The past week was dominated by central bank activity— Sweden's central bank hiked rates 100bps, and both the South African and the Swiss central banks hiked rates by 75bps, sending policy rates positive in Switzerland for the first time since 2014. In the Philippines, Indonesia, Norway, and England, base rates were increased by 50bps. Unorthodox policy adopters also didn't disappoint; in Japan an unscheduled bond purchasing operation was announced in addition to the current policy of unlimited buying of 10-year duration Japanese Government Bonds (JGBs) at 25bps. This was followed by currency intervention for the first time in 24 years. The central bank of Turkey cut its 1-week repo rate 100bps to 12%, noting the importance of financial conditions remaining supportive to preserve the growth momentum in a period of increasing uncertainties regarding global growth as well as escalating geopolitical risk. Both central banks seem to be ignoring the fact that their nation's Consumer Price Index (CPI) for August were above expectations at 3% and 80.2%, respectively.
US government bond yields increased for the second week in a row. The long end of the curve outperformed as investors saw an increased likelihood that a synchronized sharp rise in base rates across the world might be effective in bringing down inflation (although at a potential cost of recession). In corporate credit there were no safe havens. Investment grade markets were punished by their high correlation to government bonds, and the high yield market saw spreads widened on recession fears. As a result, both universe drawdowns were similar for the week. Equity and commodity markets followed the same line of thinking as corporate high yield, selling off recession fears. The "winner" continues to be the US Dollar, which continues to appreciate most aggressively against G10 currencies. The US Dollar Currency (DXY) Index gained +2.20% for the week. Meanwhile, Emerging Market (EM) currencies continue to perform better on a relative basis versus G10 currencies.
Brazil was the one exception to this week's trend. This week, Brazil's central bank left its benchmark lending rate unchanged at 13.75%.1 Brazil's stock market, tracked by the Ibovespa Index, rose by more than 3% and its currency (the Brazilian real) appreciated by more than 2.0% against the US Dollar. The Brazilian central bank has long been our "role model," one of the first to cite inflationary problems and to increase interest rates and adopt an aggressive hiking cycle policy. This is now the policy solution that most global central banks are following. This past week the Brazilian central bank ("central bank") paused, communicating a job completed and policy perhaps sufficiently restrictive to normalize inflation. The central bank has forecast that its preferred inflation indicator, the IPCA 15, will fall to 5.8% by year end from a peak in April of 12.13%.1 We now expect the central bank to remain on hold until the new year giving it time to assess the lagged effects of the hiking cycle and the results of the upcoming elections in October. The central bank did warn against government fiscal largesse as an upside risk to inflation. Maybe the Bank of England should take note (given persistent global price pressures and a tighter-than-estimated output gap).
1.Macro Research, Bradesco BBI, 21 September 2022
This begs the question, when will the US Federal Open Market Committee (FOMC) believe that policy is suitably restrictive? In our view, the FOMC's preferred method of measuring policy restrictiveness is via financial conditions indexes. The amount of tightening added to financial conditions has only occurred on two other times: 2000 and 2007. Please see the Chart of the Week. If history is a precedent, such tightening of policy may not end well. Policy adjustment has to be aggressive and is, therefore, restrictive, which may explain the current market reaction and drawdowns over the last few weeks.
Chart of the Week: Tightening Effects Via Financial Conditions Index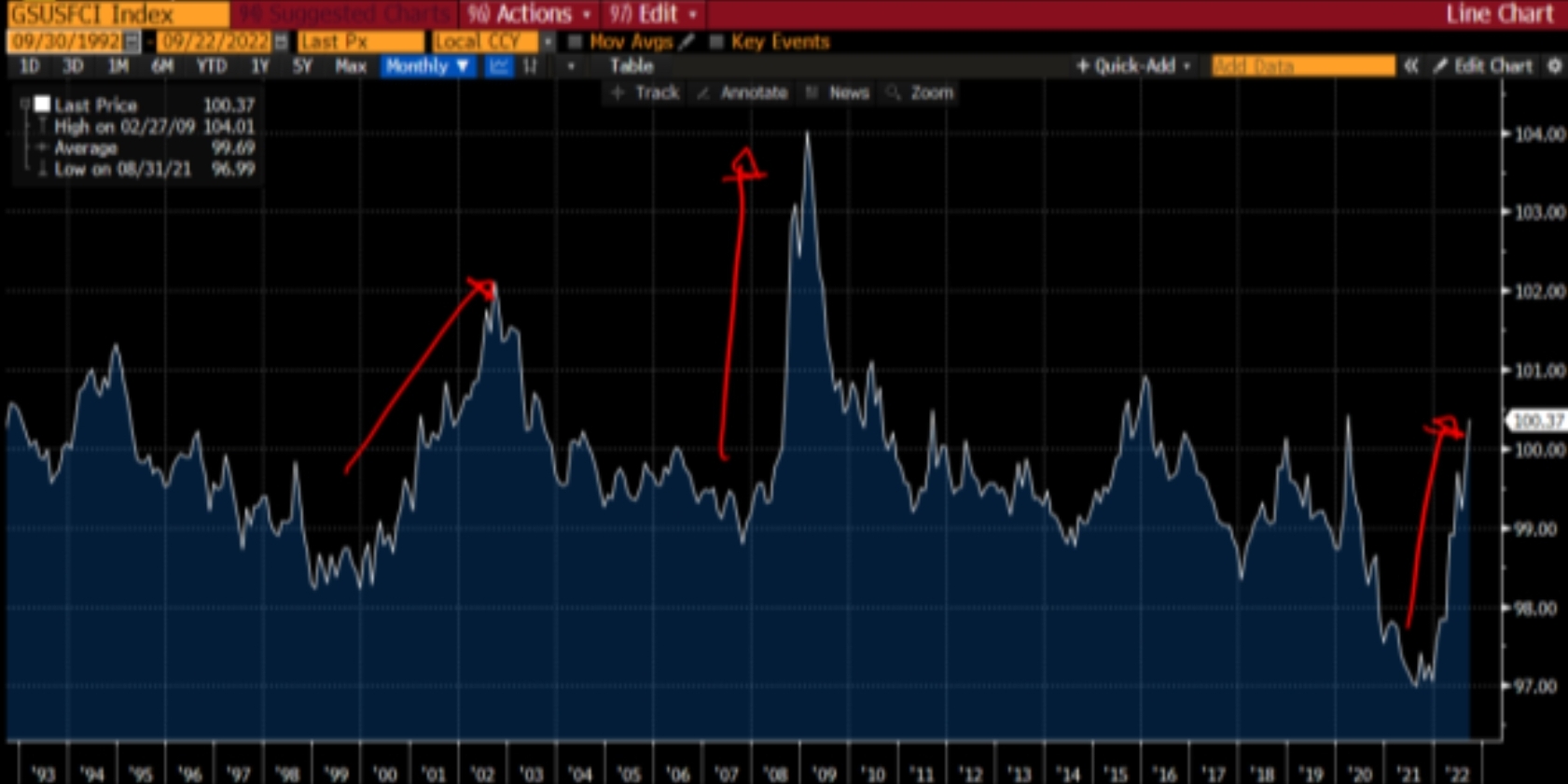 Source: Bloomberg, Goldman Sachs US Financial Conditions Index (GSUSFCI Index), as of 22nd September 2022. For illustrative purposes only. Past performance is not a reliable indicator of current or future results and should not be the sole factor of consideration when selecting a product or strategy.
Capital at risk. The value of investments and the income from them may fall as well as rise and is not guaranteed. Investors may not get back the full amount invested.
This material is not intended to be relied upon as a forecast, research, or investment advice, and is not a recommendation, offer or solicitation to buy or sell any securities or to adopt any investment strategy. The opinions expressed by Muzinich & Co are as of September 2022 and may change without notice. All data figures are from Bloomberg as of 22nd September 2022, unless otherwise stated. 2022-09-23-9443
———————————————————————————————————————————————————————————————————————————————
Important Information Muzinich & Co.", "Muzinich" and/or the "Firm" referenced herein is defined as Muzinich & Co. Inc. and its affiliates. This material has been produced for information purposes only and as such the views contained herein are not to be taken as investment advice. Opinions are as of date of publication and are subject to change without reference or notification to you. Past performance is not a reliable indicator of current or future results and should not be the sole factor of consideration when selecting a product or strategy. The value of investments and the income from them may fall as well as rise and is not guaranteed and investors may not get back the full amount invested. Rates of exchange may cause the value of investments to rise or fall. Emerging Markets may be more risky than more developed markets for a variety of reasons, including but not limited to, increased political, social and economic instability, heightened pricing volatility and reduced market liquidity. Any research in this document has been obtained and may have been acted on by Muzinich for its own purpose. The results of such research are being made available for information purposes and no assurances are made as to their accuracy. Opinions and statements of financial market trends that are based on market conditions constitute our judgment and this judgment may prove to be wrong. The views and opinions expressed should not be construed as an offer to buy or sell or invitation to engage in any investment activity, they are for information purposes only. Any forward-looking information or statements expressed in the above may prove to be incorrect. In light of the significant uncertainties inherent in the forward-looking statements included herein, the inclusion of such information should not be regarded as a representation that the objectives and plans discussed herein will be achieved. Muzinich gives no undertaking that it shall update any of the information, data and opinions contained in the above. United States: This material is for Institutional Investor use only – not for retail distribution. Muzinich & Co., Inc. is a registered investment adviser with the Securities and Exchange Commission (SEC). Muzinich & Co., Inc.'s being a Registered Investment Adviser with the SEC in no way shall imply a certain level of skill or training or any authorization or approval by the SEC. Issued in the European Union by Muzinich & Co. (Ireland) Limited, which is authorized and regulated by the Central Bank of Ireland. Registered in Ireland, Company Registration No. 307511. Registered address: 32 Molesworth Street, Dublin 2, D02 Y512, Ireland. Issued in Switzerland by Muzinich & Co. (Switzerland) AG. Registered in Switzerland No. CHE-389.422.108. Registered address: Tödistrasse 5, 8002 Zurich, Switzerland. Issued in Singapore and Hong Kong by Muzinich & Co. (Singapore) Pte. Limited, which is licensed and regulated by the Monetary Authority of Singapore. Registered in Singapore No. 201624477K. Registered address: 6 Battery Road, #26-05, Singapore, 049909. Issued in all other jurisdictions (excluding the U.S.) by Muzinich & Co. Limited. which is authorized and regulated by the Financial Conduct Authority. Registered in England and Wales No. 3852444. Registered address: 8 Hanover Street, London W1S 1YQ, United Kingdom.